Shooting Transformers Disables Substations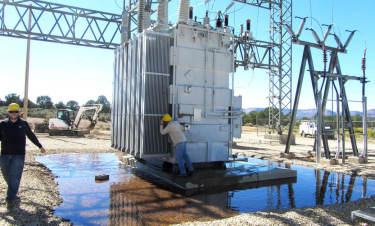 Sabotage
In May 2019, Stephen Plato McRae pled guilty to a 2016 attack on a Utah substation, in which he shot the radiator cooling fins of a transformer with his Springfield 30-40 rifle. The radiator leaked cooling oil into the holding basin designed to catch spills; without cooling oil, the transformer overheated and failed. The resulting power outage affected thousands of residents across two counties for over seven hours, with power only restored during the six to twelve month repair thanks to a mobile substation.
McRae eventually admitted to four substation attacks across 18 months:
April 1, 2015: Libson Valley Substation, San Juan County, UT
August 31, 2016: Quinn River Substation, Humboldt County, NV
September 14, 2016: Baker Substation, White Pine County, NV
September 25, 2016: Buckskin Electrical Substation, Kane County, UT
Interestingly, we can't find news reports of the first three, so we don't know whether he shot transformer cooling fins as in the Buckskin sabotage. Not until his 2019 plea deal did the general public hear about the earlier attacks, suggesting there may be many more attacks on fossil fuel and grid infrastructure than we suspect. It may also suggest that McRae's attacks on these substations were unsuccessful in damaging equipment or disrupting service, thus not warranting news coverage. Perhaps we'll learn more details in time.
Prosecutors charged McRae with only the Buckskin substation shooting, perhaps intimating that they didn't have strong evidence against McRae for the other incidents. News reports don't recount how investigators caught McRae, but the available information strongly suggests that McRae talked to someone he shouldn't have. After Garkane Energy Cooperative posted a $50,000 reward:
[…] a confidential witness told the [FBI Joint Terrorism Task Force] and the Kane County Sheriff's Office that McRae had been keeping a blue container containing a rifle in the back of his 1990 Isuzu pickup truck. McRae allegedly moved the container in early October to the basement of a motel.
The witness also told the law-enforcement officers that McRae said he "shot stuff up" in Nevada and that he purchased ammunition at small retailers to avoid scrutiny.
Effectiveness and risk of shooting transformers
As in the Metcalf substation attack, McRae demonstrated that the simple tactic of shooting radiators on transformers can damage critical grid components for months. The risk seems low; authorities never arrested anyone for the Metcalf sabotage, and McRae attacked three substations in 17 months with no indication that he ever would have been caught. His arrest after the fourth attack hinged on an informant, underscoring the importance of keeping all information on a strict "need to know" basis. Those who attack energy infrastructure would be wise to assume a large future reward for information about their actions.
However, despite transformers' critical role in the electric grid, long-term damage to these components doesn't necessarily lead to long-term system disruption. The grid is designed to withstand the failure of a single major node, so in the case of Metcalf, there were no service outages at all. McRae's sabotage caused a multi-hour local blackout, suggesting that failure of even one minor node may disrupt delivery to a relatively small set of consumers. But where grid operators can't simply reroute the electrons, they quickly restore flows with spare transformers and mobile substations. It would likely take failure of multiple nodes, à la the hypothetical Operation Circuit Breaker, to cause persistent disruption.
Ecosabotage? A larger plan?
McRae probably wasn't acting as an ecosaboteur. As far as we can tell, he attacked four small, rural substations primarily servicing residential customers. An ecosaboteur would likely have practiced initially with a small substation, then targeted multiple larger substations—simultaneously or in rapid succession—in an effort to knock out power to industrial targets such as factories and fossil fuel infrastructure.
Garkane Energy CEO Dan McClendon acknowledged:
[…] the damage to the Buckskin substation included three shots by someone who knew what they were doing, causing cooling oil to leak. "It was devastating," said McClendon, "but could have been worse."
Because the company cannot tap into other power sources, it was necessary to bring in a mobile substation to restore power while it took several months for repairs at the substation.
"The mobile substations worked, and I am glad it did [sic], because I didn't have a plan C," he said.
It would have been interesting to see whether and how McRae would have escalated his attacks to defeat "plan B," had he not gotten himself turned in by an informant. Perhaps he intended a follow-up attack on the portable transformer carrying Buckskin's load during its many months of repair, or on other substations in the network.
However, McRae may not have had any coherent, larger plan. As he asked to represent himself and filed a "short, rambling statement written on a postcard" likening himself to a John Steinbeck protagonist, he underwent two court-ordered psychological evaluations to determine his competency to stand trial. We don't have enough information to know whether he had good reason to confide in the informant who got him arrested, but in conjunction with his seeming difficulty navigating the court system, the evidence points towards McRae not having methodically planned his strategy.
Regardless, his action is an interesting case study and suggests the potential of ecosabotage to stop fossil fuels. For another inspiring example of direct action, read about DAPL ecosaboteurs Ruby & Jessica.
---
Consider supporting our work by joining our mailing list below, sharing & "liking" this page, and following us on social media. You may freely republish this Creative Commons licensed article with attribution and a link to the original.
---