Infrastructure: A Guide to the Industrial Landscape by Brian Hayes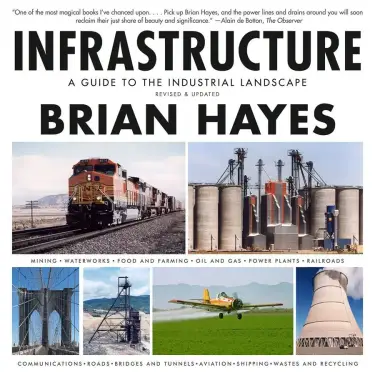 Brian Hayes has written a solid field guide to the industrial systems which extract, transport, refine, and enable burning of fossil fuels. Over its 525 pages, this book gives an extensive yet impressively detailed introduction to the physical infrastructure surrounding us. This information is essential to understanding the flow and use of fossil fuels, and thus to intervening effectively to halt the combustion.
One reviewer who has reviewed many military books on amazon.com clearly had sabotage in mind when reading this one:
"This book is absolutely brilliant and has provided a valuable training resource in understanding urban physical infrastructure for targeting. […] Some of the examples of possible targets of sabotage covered in this book include:
fuel depots and manufacturing facilities
Supply depots/ warehouses
Repair facilities
Aquatic Targets of Sabotage:

Water routes (canals, river, etc.)
Harbors, piers, and docks (both from water and land routes)

Land Routes, Vehicles, and Weapons as Targets of Sabotage:

Railways (track, switching units, etc.) and rail bridges and tunnels
Trains (locomotive, freight, and passenger cars)
Roads and road bridges and tunnels
Air traffic control towers
Runways/airfields

Industrial and Economic Targets of Sabotage:
Utilities as Targets of Sabotage:

Communications (lines above and below ground, radar installations, radio facilities)
Water facilities
"Overall, I commend the author on outstanding book, and I highly recommend this book to anyone operating in the military field of explosives and/or special operations."
The book's information will be useful not only to that reviewer's audience of potential military saboteurs, but to anyone trying to expel industrial infrastructure from our environment, whether they choose to resist via legal challenges, civil disobedience, or underground work.
Chapters
Out of the Earth
Waterworks
Food and Farming
Oil and Gas
Power Plants
The Power Grid
Communications
On the Road
The Railroad
Bridges and Tunnels
Aviation
Shipping
Wastes and Recycling
Note on printings
A 2005 edition was published under the titles Infrastructure: A Field Guide to the Industrial Landscape and Infrastructure: The Book of Everything for the Industrial Landscape. The revised and updated 2014 edition, with the title Infrastructure: A Guide to the Industrial Landscape is worth getting instead of the older version if you can. The editions don't differ greatly though, so don't worry that you're missing too much if you can only find the 2005 version.
---
Consider supporting our work by joining our mailing list below, sharing & "liking" this page, and following us on social media. You may freely republish this Creative Commons licensed article with attribution and a link to the original.
---