Standing Rock and #NoDAPL
Governments have long facilitated extraction of resources by corporations, and the support has grown ever more explicit. Even the bravest mass civil disobedience can't physically repel their combined force. Standing Rock demonstrates, as did Occupy Wall Street, the difficulty of holding territory. Civil disobedience and protest are most effective as hit and run tactics; otherwise, militarily superior police forces assemble to terrorize nonviolent activists. The perpetrators have near immunity from legal consequences, and carefully crafted propaganda normalizes their attacks on "violent extremists," undermining popular condemnation of state brutality.
Local, state, federal, and private forces defending Dakota Access Pipeline (DAPL) wielded riot gear and body armor, ATVs, armored vehicles, helicopters, missile launchers, LRAD, and an arsenal of offensive weapons including water cannons, rubber bullets, concussion grenades, tasers, and pepper spray. They positioned snipers with fully lethal weapons and mobilized hundreds of personnel at a time, executing military maneuvers to control perimeters and overwhelm unarmed water protectors. Governments in the US and in other countries increasingly deploy similar strength anywhere citizens threaten business interests. Civilians going toe-to-toe with such forces have the same likelihood of success as a human butting heads with buffalo.
History
With DAPL construction imminent, Ladonna Brave Bull Allard, on April 1, 2016, established the Sacred Stone Camp near the Standing Rock Reservation to defend sacred and historical sites along the pipeline's path. The camp called for water protectors to stand with them, and quickly grew beyond capacity, with Oceti Sakowin (Seven Council Fires) and Rosebud Camps added nearby. These early camps primarily focused on prayer, symbolic action, and solidarity with the legal challenges being pursued in courtrooms. Energy Transfer Partners (ETP) began construction in late May.
Red Warrior Camp: direct action
Water protectors began using civil disobedience to disrupt construction of the "Black Snake" in early August. Red Warrior Camp organized trainings, planned actions, and provided and mobilized bodies for the front lines—"meeting their prayers halfway." For two and a half months, they regularly invaded and delayed work at construction sites, able to shut down multiple sites in a day simply by showing up in large caravans. Most actions ended either in construction crews leaving or with arrests, but on September 3rd, when protectors attempted to block bulldozers destroying burial sites, ETP's private security (operating illegally without a license) attacked them with pepper spray and dogs. Amy Goodman's video footage of the vicious incident drew widespread attention and public outcry, but chillingly, far from investigating the responsible personnel, the state of North Dakota charged Goodman herself with criminal trespass.
Battle of Treaty Camp
Direct action required access to the pipeline route; if the protectors couldn't get to construction sites, they couldn't interrupt work. Initial protector camps were on the south side of the Cannonball River, with Backwater Bridge allowing access to disrupt work sites to the northwest. Once construction had nearly reached Highway 1806 north of the bridge, the water protectors escalated opposition with a tactic very similar to Unist'ot'en Camp. On October 23, they established Treaty Camp on unceded land directly on the pipeline route, promising to halt construction so long as they remained.
But unlike Unist'ot'en Camp, which has blocked construction of multiple pipelines for seven years and counting, Treaty Camp only lasted four days. On October 27, in an operation The Intercept describes as the "[best illustration of] the collaboration between federal, local, and state police and private security in suppressing the #NoDAPL movement," hundreds of armed and armored officers evicted the camp, forced all water protectors south of Backwater Bridge, and erected what became a permanent blockade on its north end.
In the following weeks, several attempts by camp residents to cross the river were brutally repelled, most notably the November 20 effort to reopen Backwater Bridge. Throughout that night, police used rubber bullets, tear gas, grenades, and water cannons in freezing temperatures, injuring more than 300 unarmed water protectors.
With ready access to work sites blocked, nearly all subsequent activity was symbolic, unable to materially affect construction.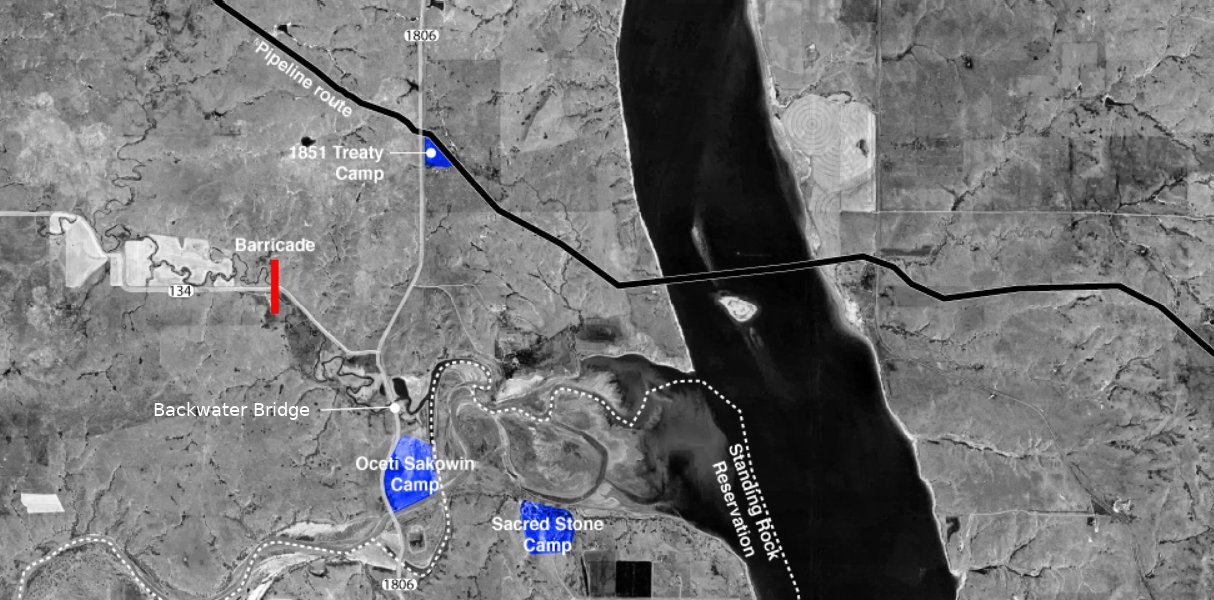 Battle of Treaty Camp
Main camps located south of Cannonball River depend on Backwater Bridge to access construction sites
Treaty Camp on pipeline path
Protectors place barricade on County Road 134, attempting to block police advance from the west
Police evict Treaty Camp, push all protectors south of the river, and barricade Backwater Bridge
Water protectors permanently bottled up away from construction sites
Mississippi Stand & other support
While Standing Rock attempted to block DAPL from crossing the Missouri River, Mississippi Stand, established August 31st by Jessica Reznicek, fought for the Mississippi River in Keokuk, Iowa. The camp (later a mobile caravan) temporarily halted construction in multiple direct actions—in one instance for more than 24 hours. Ruby Montoya met Jessica here, the two eventually embarking on a highly effective campaign of ecosabotage.
Beyond the actual encampments, the protectors drew international media attention. A rumor that law enforcement was utilizing social media to track attendance at the camps generated nearly 2 million "check-ins" on Facebook in an attempt to confound police. Tens of thousands of participants in hundreds of global actions publicly demonstrated support, raised funds for the camps, and disrupted DAPL-tied banks and corporate and government meetings. Countless individuals divested from banks and pressured cities including Seattle, Santa Monica, and San Francisco to vote in favor of divesting municipal funds.
In solidarity, the Valve Turners, in an action more materially efficient than #NoDAPL itself, shut off all the pipelines carrying tar sands oil into the US. (See analysis below.)
Veterans Stand & permit denial
In mid-November, a call went out for military veterans to converge from December 4th-7th for Veterans Stand for Standing Rock. The organizers initially hoped for a turnout of 500 veterans. They closed the sign-up roster once it had reached 2100, and perhaps 4000 made the journey to stop the pipeline.
The original plan was for the veterans, unarmed, to act as a human shield, putting their bodies between violent police and nonviolent water protectors. They might have broken through the security protecting the $20 million drilling rig preparing to tunnel under the Missouri River. They could then have substantially set back construction.
Instead, on December 4th, the US Army Corp of Engineers, presumably to avoid a PR disaster of police attacking unarmed veterans, denied the drilling easement. Though experienced warriors and activists correctly interpreted the announcement as a merely temporary delay until the inauguration of Trump, and though many or most of the veterans were still prepared for direct action, the self-appointed Veterans Stand leaders and some of the native elders diverted the energy into a symbolic march.
As the camps emptied of water protectors, ETP, confident they'd eventually get their required permit, continued preparations for drilling.
Construction completion
For two and a half months, the camps, greatly diminished in numbers by the harsh winter and by some tribal leaders' rejection of continued resistance, made multiple unsuccessful attempts to access the drill pad. North Dakota's governor issued a mandatory evacuation order for the camps, and by February 23rd, the final 43 holdouts were arrested and the camps razed.
On January 24, 2017, fifty one days after the Corp decision, Trump signed an executive order effectively overruling the earlier denial. The Corp granted the necessary easement on February 8th, and ETP began drilling under Lake Oahe the next day. DAPL became fully operational June 1st, transporting 500,000 barrels of oil per day by mid-2018. It leaked at least five times in 2017.
Goals, strategies and tactics
Participants in #NoDAPL did not share a unified view of strategy and tactics. They weren't even all working toward the same goal. Some merely wanted the pipeline rerouted away from Sioux territory; others wanted DAPL stopped; still others wanted all pipelines and fossil fuel extraction stopped.
Lobbying
Accordingly, some hoped entreaties would persuade government officials and ETP decision makers to address the concerns of the Standing Rock Sioux Tribe. In symbolic gatherings and prayers, they bore witness to assaults on the land, on sacred sites, and on water protectors. They gave symbolic support to the lawsuits petitioning courts to intervene. They asked those in power to do the right thing.
Others saw funding as the soft underbelly of the Black Snake, so directed their persuasion towards defunding the $3.78 billion project. They encouraged individuals and municipalities to divest from banks involved with the pipeline, and further pressured the banks with direct actions. It's unclear whether this had any chance of success; the only detailed reasoning we've found had several flaws:
The report acknowledged construction as 84% complete, but didn't explain why ETP wouldn't spend the final $600 million to complete a pipeline expected to earn $20 million per day once complete.
It declared Bakken takeaway capacity overbuilt with 60% of capacity unutilized. However, only expensive crude-by-rail was underutilized; pipelines, the preferred method, were full.
It incorrectly predicted further decline in Bakken oil extraction due to the industry's unprofitability. The authors forgot the adage that markets can remain irrational longer than you can remain solvent (or the climate can remain stable.)
It incorrectly speculated, arguably indulging in wishful thinking, that shippers might terminate contracts if DAPL missed a January 1 completion deadline.
Action
Still others adopted Red Warrior Camp's philosophy of vitalizing prayers with action. These water protectors pursued a strategy of attrition, using short-term blockades, lock-downs, and occupations of work sites to delay construction. Like those working for divestment, they hoped to exhaust ETP's financial stamina, but a few million dollars for security contractors and idled construction crews is a rounding error for a $3.78 billion project. Whatever ETP spent to supplement taxpayer-funded police forces, it probably recouped in DAPL's first month of operation.
Impact
Movement investments
It's impossible to get precise numbers on Standing Rock and #NoDAPL involvement. The movement began with two hundred tribal members on horseback and two or three dozen relay runners and campers. By August the camps had grown dramatically to 3000 residents, with numbers swelling on the weekends. Various sources estimate 3-5000 camp residents in August and September, down to 1000 by the end of October, then up to 10-15,000 for the early December showdown. Hundreds remained until the final eviction in February.
Tens of thousands of people visited the camps. Tens of thousands more participated globally in support events. More than a thousand were arrested. Millions supported the movement online. Between the camps, direct actions, and far flung grassroots support, activists invested at least 15,000 person months.
Supporters from around the world donated cash and materiel, augmenting out of pocket expenditures by participants on the ground. As with time invested, it's impossible to pin down numbers, but Standing Rock Sioux tribal chair Dave Archambault II estimated $40 million raised in total; GoFundMe campaigns alone raised nearly $8 million from 138,000 donors. A large portion of the donations were hijacked or misappropriated and never benefited water protectors or the indigenous community, but even so, the campaign likely spent at least $20 million.
Material effectiveness
#NoDAPL failed to stop the pipeline, or even to force its rerouting, but a fallback objective was simply to delay the project as long as possible. Pipelines are built in parallel, with multiple sections under construction at once. Although activists at Standing Rock and elsewhere did disrupt individual sites for many cumulative days, that didn't necessarily affect the completion date for the entire project. We must compare the expected schedule without #NoDAPL against what actually played out.
In a 2014 construction plan, ETP projected about nine months for pipeline construction—which, with its May 2016 start, would have brought completion in February 2017. Whether because of newfound shortcuts or simply to reassure investors, in June ETP was hoping for operation by the end of the year—seemingly a very best case scenario. As of December 18, despite little or no interference with construction in the state, the pipeline was still incomplete in Illinois.
The camps and direct actions had little if any direct impact on the timeline; with or without Standing Rock, oil wouldn't have flowed until late December at the earliest. However, the movement, strengthened by footage of brave front line actions and the shockingly vicious response, pressured the Obama administration to suspend construction for two months. One month after the Trump administration permitted resumption, ETP had drilled under the Missouri River and expected oil to flow by March 22. Standing Rock and #NoDAPL had delayed completion by at least two, perhaps even three months.
Notably and instructively, just two people—Ruby Montoya and Jessica Reznicek—then delayed DAPL another two months, employing hit-and-run tactics 1000 times as efficient as those of the #NoDAPL movement.
Movement building
#NoDAPL didn't have much material payoff, but it may seed future struggles. Participants, especially indigenous youth, experienced days or even months of often life-changing purpose and camaraderie. Many experienced empowerment in opposing a corporate mega project—from the front lines, or with material support of cash and equipment, or by acting as an alternative to corporate media. Many members of settler culture deepened their understanding of US colonization and indigenous resistance. These lessons will inspire and inform further action.
Unintended effects
When a campaign ends with little material success, its accumulated excitement and energy may backfire. Once the rush fades of doing something, anything, activists grow disillusioned with how little they have to show for the passion they poured in. Those who haven't yet burnt out exchange platitudes about never giving up, then charge into the next fight. Bullheadedness works for bison and armored cops, but hollow hope that somehow we'll win next time—if only we try hard enough—inevitably exhausts activists.
Perhaps the most impactful legacy of Standing Rock is the backlash against protesters. Within an hour of the final clearing of water protectors, North Dakota's governor signed four bills restricting the right to protest. As of December 2018, seven additional states had passed similar bills, with one federal and eight more state bills pending.
Ironically, criminalizing aboveground protest may drive people to underground action—more effective and safer than traditional protest. Contrary to TV propaganda, police seldom catch lawbreakers who don't make easily avoided mistakes. Careful, security conscious underground actionists using hit and run tactics run less risk of punishment than do aboveground protesters exposed to mass arrest and draconian sentences.
Unfair critique?
Measuring Standing Rock, rooted in place by defense of particular sacred sites and waterways, against the mobile Valve Turners and Jessica and Ruby might seem pointless, like comparing an apple orchard to loose oranges. Yet activists can choose their strategies and tactics. We examine the advantages and disadvantages precisely because of the dissimilarity, especially in effectiveness. While Standing Rock's monolithic nature made support straightforward—donate to or show up at a camp—its structure precluded important principles of strategy, most critically initiative and surprise. The compromise may be worth making, but it should be made with a full awareness of the trade-offs.
But can small, mobile groups be realistic models? Few people have the temperament and life circumstances for clandestine activity, and few know underground activists whom they can assist. It's not obvious how the hundreds of thousands of #NoDAPL contributors could have supported those working secretively.
Yet, the Valve Turners demonstrated that those willing to face arrest for civil disobedience can have material impact far greater than by locking down to construction equipment. And Jessica believed that if just one in ten thousand #NoDAPL participants had mimicked her and Ruby, they might have stopped the pipeline for good. Even if most activists can't or won't adopt guerrilla tactics, it would only take a small percentage to yield big wins. And though financial support in advance for underground activists is infeasible, anyone can donate to legal defense funds for captured comrades.
Aboveground campaigns—visible, easy ways to feel one can make a difference—will always be part of the movement's toolbox. They excite mass involvement, an opportunity to funnel people into more effective action. In discussing #NoDAPL's material inefficiency and ultimate failure, we don't mean to denigrate its accomplishments. It inspired international engagement, educated tens of thousands of activists, and built valuable relationships. Yet its seeds can only flourish if the movement honestly assesses the defeat, then adjusts its approach.
The future
One lesson we can't afford to keep relearning, from the Black Panthers to Occupy to Standing Rock: holding territory against the state is nearly impossible. Without an overwhelming majority of popular support, police forces will always overpower dissenters.
Even without trying to occupy land, nonviolent civil disobedience only succeeds through force, marshalling enough public support to make those in power afraid to say "no." But governments have learned they can safely ignore thousands—even tens of thousands—of protesters. And unlike in civil rights era Birmingham, those defending the status quo use attack dogs and water cannons against unarmed protesters without repercussions.
One possible response is to build the movement even larger. Mass civil disobedience against the Keystone XL pipeline was a qualified success. Some 40 million Americans are theoretically willing to engage in civil disobedience in defense of the climate, with another 22 million willing to support such action. A complementary approach is to employ more effective strategies and tactics. Neither seems to be happening. Smaller struggles against the Atlantic Coast, Bayou Bridge, Mariner East 2 and Mountain Valley pipelines employ the same tactics as did #NoDAPL, within the same strategy of attrition.
Those of us not in a position to directly carry out or aid covert action can only encourage such efforts indirectly. Most pressingly, we need a grassroots media to educate new and veteran activists. Few have heard of alternatives to primarily symbolic blockades and occupations. Until activists know of the more direct options to shut down infrastructure, they can't make informed choices.
Please consider assisting Stop Fossil Fuels, or taking on this work in your own way.
Learn more
A new strategy for activism: Cascading Failure.
Our comparison of #NoDAPL, the Valve Turners, and Ruby Montoya and Jessica Reznicek: Pipeline Activism and Principles of Strategy.
Black Snake Killaz, two hour Unicorn Riot documentary based on front line footage. Powerfully conveys the mismatch of force against militarized police.
The Intercept's in-depth series "Oil and Water", detailing how corporations and the state collude to crush civil disobedience. Illuminates the danger for underground activists of prior aboveground involvement.
Over fifteen months, Unicorn Riot covered Standing Rock, Mississippi Stand, and other actions. See the bottom of either article for an index:
Mississippi Stand—see "Current News"->"Past News and Videos" for links relevant to #NoDAPL. (archive.org)
---
Consider supporting our work by joining our mailing list below, sharing & "liking" this page, and following us on social media. You may freely republish this Creative Commons licensed article with attribution and a link to the original.
---