Enbridge's Westcoast Energy Pipeline explosion: a case study in cascading failure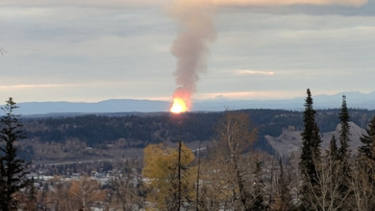 Transportation of natural gas and oil depends heavily on pipelines. In some areas, just a few pipelines bottleneck an entire region's distribution.
On October 9, 2018, one of two natural gas pipelines within the same right-of-way ruptured and exploded. Both lines were shut down, halting one of only three major pipeline systems moving gas from Canada into the Western US. The disruption of 1.5 billion cubic feet of gas per day, 1 billion of which entered the US at Sumas, WA, forced immediate conservation measures:
The explosion exemplifies cascading failure:
Rupture of one gas pipeline → shuts down a second → severe gas shortage →
supply to industrial users cut off → saw mills and perhaps other industrial operations stop
2 million customers asked to conserve energy
at least four oil refineries partially shut down → west coast gasoline prices spike, perhaps decreasing usage
Though most activists won't be exploding pipelines, they should nonetheless apply systems thinking to their strategy and tactics, making the most of limited resources by triggering cascading failures. They should choose targets carefully, evaluating the possibilities with tools such as the CARVER matrix.
---
For more on systems thinking, read our front page beginning at "attrition".
Stay up to date on our research via our email list or social media.
---
Consider supporting our work by joining our mailing list below, sharing & "liking" this page, and following us on social media. You may freely republish this Creative Commons licensed article with attribution and a link to the original.
---